The idea of flying for a luxury vacation always sounds glamorous and exciting until you're five hours into a ten-hour flight, nestled in a cramped economy seat, with your neck cricked at an angle that's nowhere near natural. You're struggling to doze off, but the reality of stiff muscles and the potential for post-flight pain is looming. That's where supportive travel neck pillows come in – those lifesavers that turn your in-flight experience from a nightmare to a peaceful, dream-filled journey.
For avid travelers and even occasional flyers, a good travel pillow isn't just an accessory—it's a necessity.
But with the countless options available in the market, how do you sift through and find the best travel pillow that promises, and more importantly, delivers comfort? Especially when every brand claims to have the 'best airplane pillow' up their sleeve. We're going to dive into a curated list of the top seven travel pillows, ensuring your next flight is nothing short of dreamy.
What Makes a Great Travel Pillow?
Before we get into our top picks, it's essential to understand the characteristics of a high-quality travel pillow. Here's what sets the best apart from the rest:
Ergonomic Design: The very essence of a travel pillow is to provide support. A well-constructed travel neck pillow will cradle the neck and head, distributing weight evenly and preventing any straining. An ergonomic design ensures that the spine maintains its natural curvature even when you're miles high in the sky.

Material: When it comes to comfort, the material is paramount. Memory foam travel pillows often top the list as they mold to the shape of your neck and head, providing individualized comfort. However, other materials, such as beads or inflatable designs, can also offer a high comfort level, depending on personal preferences.

Portability: Travel, by definition, means you're on the move. A great travel pillow should be easy to carry around, whether it's by attaching to your luggage or compressing down into a compact form.

Durability: Just as with any investment, you'd want your travel pillow to stand the test of time—and multiple trips. Durable stitching, high-quality foam or filling, and resilient covers can add years to a pillow's lifespan.

Adjustability: Not every traveler's needs are the same. Whether it's adjusting firmness in an inflatable pillow or repositioning a modular design, flexibility can significantly enhance the comfort experience.

Ease of Maintenance: Let's face it; travel can be messy. From spilled drinks to unexpected turbulence, having a travel pillow with a removable and washable cover can be a lifesaver.

Additional Features: From inbuilt pockets for your phone or earplugs to cooling gels for those warm flights, the best airplane pillows often come with added features to enhance your travel experience.
Now that we've laid out the criteria, let's dive into our top seven travel pillows, each uniquely equipped to make your journey smoother and more restful.
The Neck-O Pillow stands out not just as an ordinary travel companion, but as an innovator in the world of neck support. Originally designed with dental patients in mind, its ergonomic design has proven to be a game-changer for travelers too. Whether you're on a long-haul flight or just need some added comfort during a short trip, this pillow has got your back—or rather, your neck.
Its unique three-pronged design and 100% cotton shell make sure your head stays aligned, and the pressure points in your neck are soothed. Apart from being great for spinal alignment, the memory foam filling ensures that the pillow molds to the shape of your head and neck, offering unparalleled comfort.
Ergonomic Design: A
Material: A
Portability: A
Durability: A
Adjustability: B
Ease of Maintenance: A
Additional Features: A

Overall Grade: A

The Tempur-Pedic Travel Pillow is known for its viscoelastic memory foam, the Tempur-Pedic brand has been a household name in sleep and comfort solutions for decades. This travel neck pillow is no exception to their reputation.
The TEMPUR material, originally developed by NASA, responds to your body's temperature, weight, and shape for precise, personalized comfort. It has a firm feel, making it especially suited for those who need strong support. Moreover, its ergonomic design ensures your neck remains in a neutral position, helping to fend off any travel-related discomfort.
Ergonomic Design: A
Material: A+
Portability: B-
Durability: A
Adjustability: B
Ease of Maintenance: A
Additional Features: A (for its unique TEMPUR material)

Overall Grade: A
Few travel pillows come close to the likes of the Cabeau Evolution S3. This travel companion makes long-haul flights not only bearable but truly enjoyable and restful. Made with high-quality memory foam, it contours perfectly to the neck, providing optimal support and comfort.
What sets the Evolution S3 apart from its competitors is its innovative "Seat Strap System" that ensures the pillow stays in place and doesn't slip or slide during your flight. This feature is particularly handy for travelers who toss and turn in their seats. Plus, its removable and washable cover ensures you always have a fresh-feeling pillow on every journey.
Ergonomic Design: A- (only because it can be a little bulky)
Material: A
Portability: A (due to its compact carrying case)
Durability: A
Adjustability: A (because of its unique Seat Strap System)
Ease of Maintenance: A
Additional Features: A+ (for the Seat Strap System and washable cover)

Overall Grade: A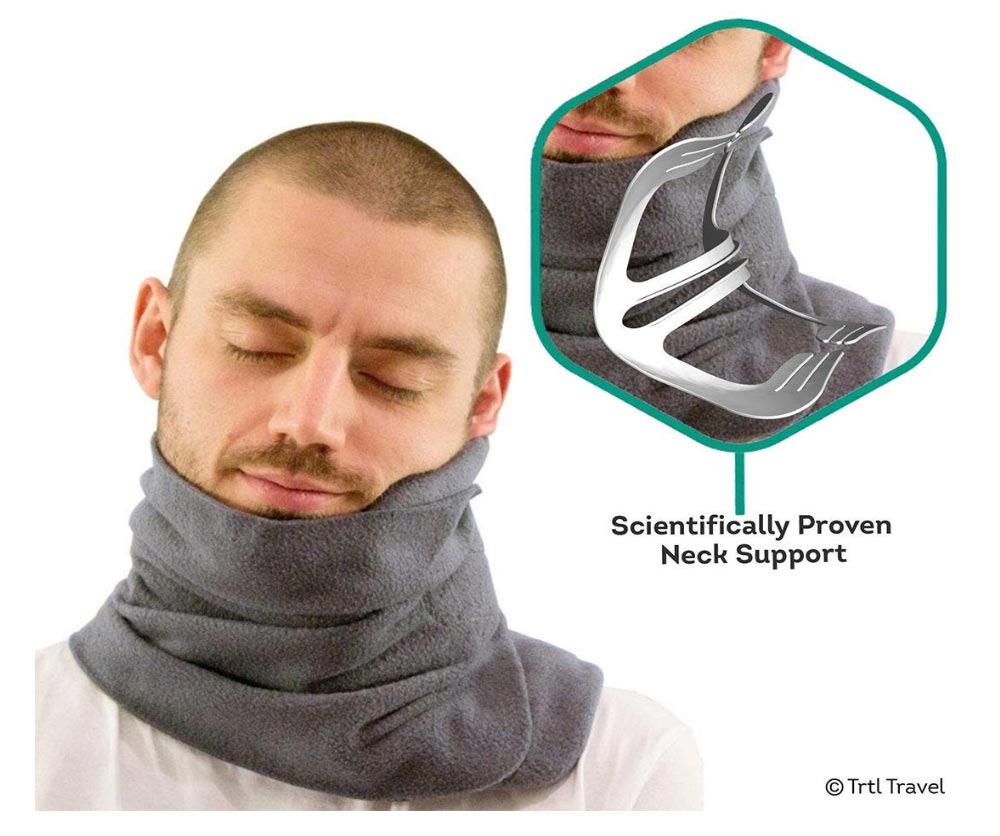 Different from traditional U-shaped travel pillows, the Trtl Pillow stands out with its innovative design that combines a cushioned support with a soft fleece wrap. This scientifically proven neck support pillow ensures your head remains in an ergonomic position, even during long flights.
Designed with the traveler's comfort in mind, the Trtl Pillow is lightweight and half the size of a traditional travel pillow, making it easy to attach to your carry-on. It offers adjustable tightness, allowing travelers to find the most comfortable position. What's more, its hypoallergenic fleece wrap is machine washable, so you're always traveling with a fresh and cozy companion.
However, this product is very hit or miss based on the customer and some people say that they love it while others say they don't. It is a much more firm pillow therefore it is not as comfy as our other pillows on the list. 
Ergonomic Design: A or C (this really comes down to preference)
Material: A (soft hypoallergenic fleece wrap)
Portability: A+ (very compact and lightweight)
Durability: A
Adjustability: A+ (offers adjustable tightness)
Ease of Maintenance: A
Additional Features: A or C (innovative design and wrap mechanism)

Overall Grade: B+
Taking a detour from the traditional neck pillow design, the Ostrich Pillow Light provides a revolutionary way to sleep in any situation. Its quirky, unique design envelops the entire head, creating a cocoon-like environment that blocks out light and noise, ensuring a restful nap regardless of surroundings.
Created with comfort in mind, the Ostrich Pillow is filled with micro-beads that adapt to the shape of your head and neck. This offers both support and cushioning in all the right places. While it might not be the most compact travel pillow, its unmatched comfort makes it a favorite among many frequent flyers.
Ergonomic Design: B+
Material: A (soft fabric filled with micro-beads)
Portability: C+ (bulkier than most travel pillows)
Durability: A-
Adjustability: B (fits most head sizes but lacks tightening features)
Ease of Maintenance: B+
Additional Features: A- (blocks out light and noise)

Overall Grade: B
When it comes to ensuring your chin doesn't drop while napping on a plane, train, or car, the BCOZZY Chin Supporting Travel Pillow is a game-changer. Designed with an overlapping arm structure, it provides the unique ability to adjust and choose the thickness level best suited to individual comfort needs.
Crafted with soft and durable fabric, the BCOZZY ensures both comfort and longevity. Its lightweight and flexible design mean it can be manipulated into multiple positions to provide support where it's most needed. The twistable core ensures that travelers can attain the perfect neck and chin alignment as their  resting position.
Ergonomic Design: A (Overlapping arm structure ensures chin support)
Material: A- (Soft and durable fabric)
Portability: A (Lightweight and can be attached to luggage)
Durability: A-
Adjustability: A (Flexible and twistable core)
Ease of Maintenance: B+ (Machine washable but needs careful drying)
Additional Features: B (Lacks features like memory foam but makes up in design)

Overall Grade: A-
For those who seek the perfect blend of comfort and support, the Aeris Memory Foam Travel Neck Pillow emerges as a top contender. Memory foam, known for its unique properties of contouring to the shape of the body, makes this pillow an ideal choice for travelers wanting to ward off neck strain.
The Aeris stands out with its ventilation design, ensuring it remains cool even during extended use. Its plush velour cover is not only soft to the touch but also easily removable for washing, ensuring your travel companion remains fresh throughout your journeys.
Another noteworthy feature is its ability to compress down into a compact carrying bag, making it a breeze to pack and carry. Its adjustable toggles ensure a snug fit, minimizing the chances of the pillow shifting during your rest.
Ergonomic Design: A- (Memory foam contours to the neck, but might be too soft for some)
Material: A+ (High-quality memory foam with a plush velour cover)
Portability: A (Comes with a compact carrying bag for easy transport)
Durability: A (Memory foam retains shape over time)
Adjustability: B+ (Adjustable toggles but fixed memory foam structure)
Ease of Maintenance: A (Removable and washable cover)
Additional Features: B (Ventilated design but lacks other standout features)

Overall Grade: A-
Conclusion
Traveling offers a world of adventures, but it also demands ensuring utmost comfort during those extended hours of transit. A travel pillow, chosen with care, can indeed make your journeys more pleasant. While we've showcased a selection of top-notch travel neck pillows in this piece, it's also essential to recognize that individual comfort needs can vary. For those who often experience discomfort or neck pain after a long trip, another alternative worth exploring is a cervical pillow.
Travel safe, sleep well, and always prioritize your comfort.